An Analytical Look at Tout A.L. & NL Auction History in a Quest for Successful
Certainly, one of the main attractions of the Tout Wars Weekend is for players of all levels to analyze the results and look for a strategy that they can execute to bring victory in their own league(s).   The Tout Wars leagues have been the Petri dish of fantasy baseball since its inception. Tout has experimented with categories. At first, moving from a 4×4 league to 5×5. Batting average was eventually changed to on-base percentage. Finally, the 5th outfielder spot changed to a flex position. All originally experiments, in attempt to make this an even better game. The league has also expanded over the years, adding a Mixed League Auction in 2005, a Mixed League Draft in 2013, and a Head to Head League in 2016.
It is also where Ron Shandler introduced "The L.I.M.A. Plan" and inspired many touts to experiment in search of the next best strategy. How do I know? I was one of them. I was offered an invitation to participate in Tout Wars in its second season, 1999. I learned some lessons that first year and in year two finished runner-up to……you guessed it, Ron Shandler and L.I.M.A.
The remainder of my years in Tout Wars, I used that Petri dish, experimenting with different strategies looking for a "holy grail" best strategy to follow.  I also did extensive research. In 2000, Rich Pike of All-Star Stats gave me access to their leagues. I researched over two hundred, twelve team A.L. and N.L. only leagues searching for common stat themes among league champions. What I found surprised me. The most commonly mastered categories by league champions were ERA and Ratio. What I found regarding strategies was that any of the strategies that are out there can win a championship if executed to perfection. However, some are easier to execute than others.
And that brings us to the 2017 Tout Wars Weekend results. I wondered if the ERA/Ratio categories still prevailed on championship teams. I also wondered (especially after listening to many of the Touts on XM/Sirius Radio share their thoughts on spending ratios, spending on closers, on catchers, etc.) if looking at past Tout League stats could yield current strategy trends that toutwars.com followers could use in their leagues.
Let's look at the stats!
Below are stat tables of recent A.L. and N.L. Tout Auction Leagues.
Money Finishes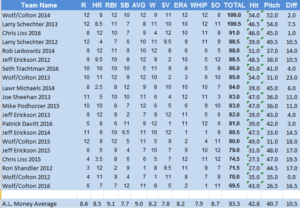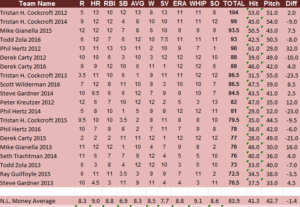 Champions only: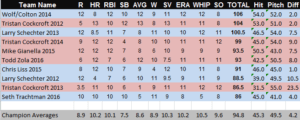 Champions:  How Dollars Were Allocated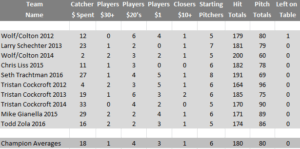 Analysis:
There sure are plenty of numbers to probe. The first thing that sticks out to me is what the stats have to say regarding punting a category. If you look at the champion stats, there is only one true punt (one point) out of one hundred possible categories. Compare this to money stats where it was done eight times successfully. However, even more damning to punting is the fact that of all the champion categories only thirteen times did a champ finish in the bottom half of any category. While punting a category may get you in the money, it is unlikely to get you to the championship as champions were usually well rounded teams competitive in all ten categories. At the very least, an owner choosing to punt even one category has little to no room for error.
Next thing that stood out to me were the categories dominated by the champions. Here they are in list form.
WHIP         10.5
Saves         10.3
ERA            10.2
HR's           10.2
RBI's          10.1
K's               9.6
Wins            8.9
Runs            8.9
Average       8.6
Steals           7.5
As I suspected, like my prior research had shown, ERA and Ratio were categories to target. To my surprise was the fact the saves came in second. This is especially true after how much 2017 Tout pre-draft debate there was on how to approach this category among the touts (more on this below). Championship teams usually master the HR/RBI combo in hitting and the ERA/WHIP/Save categories in pitching.
In trying to master these categories, the champions average spending allocation was 180 for hitting and 80 for pitching or 69% to 31% percent. While the current talk seems to favor spending more on hitting, only two champions spent more than $185 on hitting. It will be interesting to see how this plays out in 2017 as six A.L. Tout owners spent more than 185 and five did so in the N.L.
Catchers. Should you spend money on them or wait for dollar days? Tout Champions spent an average of $18 on their two catchers. Only two out of ten champions punted catchers. That is 80% of champs spending on catching.
Closers. There seems to be more debate than ever over should an owner spend on a closer. What did the stats say? Like catchers, eight out of ten champions spent money on a closer. Now, as mentioned above, saves were a category that champions aced second most and the current trend appears to be to secure them at the draft.
Thirty dollar players. There used to be a spread the wealth strategy in which owners would not pay more than $30 for any one player. Well, this seems to be a thing of the past. Eight of ten teams had 30 dollar plus players and four champions had two!
Starting pitching. The champion average is six starters. This is another trend that will be watched this season as several of the touts went with fewer starters in favor of the power relievers like Andrew Miller.
I have mentioned the stats and numbers that stood out to me. Perhaps others stand out to you, and if they do please share. For those that are looking to Tout for guidance the numbers within this article should help you develop a sound strategy. However, keep this in mind. If several owners use the same strategy it becomes more difficult to execute. Fantasy and Roto owners copycat success. You even see it with the touts. When Ron Shandler's L.I.M.A. plan hit the scene it brought him great success. The day finally came when others were looking to acquire the same players as Ron and left too many owners with not enough value to go around. The same was true with Jason Grey, Larry Schechter, and Tristan Cockcroft. All Tout Champions with streaks that came to an end. It has also been true of tout money finishes, where often successful streaks come to a crashing halt. Most recently with Jeff Erickson. However there is one streak still alive and it is one I will be watching. Rick Wolf & Glenn Colton are the only touts to be "in the money" all five years researched. I will be looking to see if their S.M.A.R.T. System (S.M.A.R.T. System @ Fantasy Alarm) can make it six.
Being able to identify this in a draft and having a "Plan B" could save your season. Sometimes the best strategy is to zig when everyone else zags. Lawr Michaels pulled this off in the middle of Jason Grey's streak. Jason was having great success spending on hitting and accumulating at bats. It was predictable others would try this strategy. Lawr, in anticipation of this, shocked everyone by doing the opposite and spent big on pitching. He read the room correctly and went against the trend. It also brought him a championship. Here is hoping this column is able to aid in bringing you one too!
Next I will take a look at the stats and numbers in the Tout Mixed Draft. Specifically, if any trends appear regarding draft position.