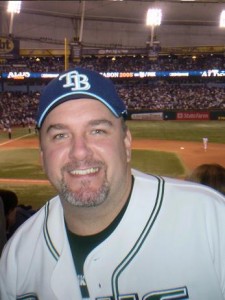 David Gonos comes to us from the sunny beaches of South Florida where he battles heavy traffic and Dolphins fans daily. He lived in Central Florida for most of his life, attending Osceola High School in Kissimmee and then the University of South Florida in Tampa. Physicians and lawyers have spent less time as a college student. He'd prefer you call him, Dr. Gonos.
A native of Syracuse, N.Y., Gonos is a Fantasy veteran since 1989, when hand-calculating football scores from the Monday morning USA Today was the norm. He would write up a league newsletter with the results and send them out, making sure to make fun of everyone in the league. His league-mates' thirst for more information begat his Fantasy writing career. It was also the first time he used the word "begat."
In 1995, he picked up Rotisserie-play in baseball and a year later, he welcomed the challenges of Fantasy Basketball, Hockey and NASCAR — Terry Labonte still holds a special place in his heart. He has lived through the Fantasy highs (Emmitt Smith circa 1995) and the lows (Hideki Irabu circa any year) for over two decades.
Gonos created his own Fantasy sports website called FantasyRef.com in the spring of 2001, and he created an experts league called the PROFL (Professional Fantasy League). This is how he connected with Scott Engel, Fantasy editor at CBS.SportsLine.com. Engel helped transition him over to CBS, where he joined Daniel Dobish on the Fantasy staff. Making fun of each other hourly was mandatory. "Whaaaaaaatever, dude."
Gonos joined the Tout Wars Mixed League in the 2004 season, where he limped his way through owning Mark Prior, several Civil War veterans and other incredibly injured players. He landed in 10th place to start his Tout career. He would eventually win the 2008 Tout Wars Mixed League title, but not until after several years of taking a SABR beating.
Eventually, Gonos became the senior Fantasy writer in the CBSSports.com group, and later left the company to be the content manager for a site called OPENSports.com, where he brought in Dobish and Ian Riley as Fantasy writers. After a white-knuckled ride with the start-up for a couple years, the site finally went the way of the www.dodo.com.
Gonos rejoined Dobish, Riley and Engel, now the Managing Director, at RotoExperts.com in the spring of 2011. This is where he writes about Fantasy Baseball and Fantasy Football in his "So-Called Fantasy Expert" column.
Throughout his writing career, he has been published in several magazines (some of them not of the adult persuasion!) and dozens of websites including FOXSports.com, NFL.com and MLB.com. He also started his own site where he blogs regularly about life, Fantasy Baseball, Fantasy Football and bad-for-him/funny-for-you stories at DavidGonos.com.
He went to the first win in Devil Rays' history, and he owns a Trent Dilfer jersey. When people point at him and laugh, he exults in the fact that his happiness is infectious. This Fantasy life has been very good to him!