If you haven't heard about Lawr's epic power display yesterday you should. His team had 16 hits and 8 of them were dingers which got him an improbable half point from Ron in HR. He currently holds a you guessed it half point lead over me with the play in game tomorrow. By no means is this the only reason Lawr would win, this is a season long games and there have peaks and valleys for both of us that would take weeks to write about, but we are fascinated with last days and amazing or disgusting performances. I may be missing some scenarios but I had to stop and move on.
Couple of things could go both our ways. On the surface
Porcello getting rocked really helps me, I'm 0.02 back of a half point in ERA
Guerrier getting a win beyond huge, that would get me 0.5 back or for some reason Edwin Jackson with a weird vulture win.
Moyer not getting a steal from Cabrera or Harris. I lead him in steals by 1.
Lawr not getting a homer from Granderson, Cuddyer or Kubel. Granderson will probably lead off with a homer. Imagine this, if Punto homers for Ron and Lawr gets non from the players above we drop back into a tie in theory.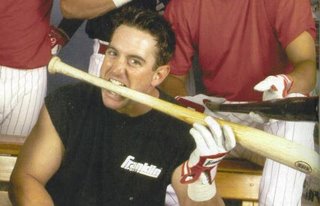 Nathan getting roughed up enough to drop Lawr in Whip.
A few of these combos gets it to a tie or maybe even a win. Possible……………Siano