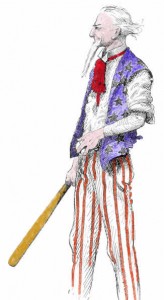 We're looking for league commissioners/SWATs for this season.
The ideal candidate is a fantasy baseball blogger or analyst aspiring to play in Tout Wars some day. Scrupulous ethics and ability to process details is a must. Familiarity with stat service software is helpful, too.
Work (processing FAAB and claims and  entering into stat service, then issuing a report) must be done between midnight Sunday and noon Monday every week of the season (a sub will be available when necessary).
If you're interested please send why you think you'd be a good fit to webmaster@toutwars.com.
While compensation will mostly be increased visibility in the fantasy baseball world, and working with some of the best known analysts in the business, there will also be a cash bonus at year's end, for jobs well done.
UPDATE: The jobs are full, we think, but if you're interested feel free to send in your name and contact info. It will get you on top of the list for next year. Thanks.