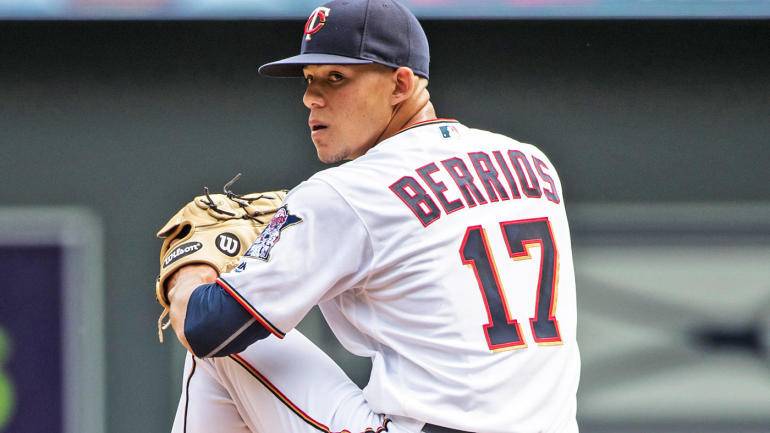 It's the second week of Period 2. Pricing remains sharp. Who will the Touts turn to this evening?
Howard Bender (Fantasy Alarm, @RotobuzzGuy)
Pitcher: Jose Berrios – Nothing wrong with going chalk for pitching tonight and Berrios has everything you could want in this match-up against a struggling Blue Jays lineup. Toronto already has the fifth-lowest wOBA and wRC+ against right-handed pitching, but now couple it with just how ice-cold they've been recently — .246 wOBA, 0.99 ISO and a near-27% strikeout rate — this should be a walk in the park for the Twins righty.
Hitter: Brandon Lowe – Ride the wave until it breaks. Lowe has been outstanding for the Rays this season and he's really taken to the leadoff spot in the absence of Austin Meadows. He's still striking out too much, but in this match-up against Taylor Clarke, I'll bank on Lowe's power and poise to get the better of Clarke, whose numbers at every level he's pitched, have been far from strong.
Rick Wolf (Fantasy Alarm, @RickWolf1)
Pitcher: Caleb Smith – I always look for the most consistent picther. Many will be worried that he is facing the Cubbies, but he has 8Ks in each of the last three games he has pitched plus he has won three of his last four including at Philly. He is sharp, consistent and has great poise. Look for 20+ from the young Marlins' hurler tonight.
Hitter: Andrew Benintendi – The Red Sox gave Benintendi the night off last night and he is super hot with multi-hits in three of his last four and the only reason he did not have multi hits in that game was that he walked three times. He does not strike out a lot so he gives you points in every game. He is face an Orioles pitcher in David Hess who gave up five home runs in the last four games and will face a formidable lineup around Andrew. Safest play tonight.
Patrick Davitt (BaseballHQ, @patrickdavitt)
Pitcher: Jose Berrios – TOR is 27th this season in OPS vs RHP, and #2 in fanning vs RHP at 27%. And the Jays have been really struggling of late vs RHP: .216 BA in the last two weeks, 668 OPS, 24% K%.
Hitter: Tommy Pham – Pham has been running pretty hot lately, and tonight faces rookie RHP Taylor Clarke, and even if Clarke exits early as expected, Pham has a career .861/.850 OPS vs RHP/LHP, so he should be OK no matter what happens. Also, Ben Clemens of Fangraphs this week named Pham a slightly-less-awesome version of Mike Trout. Who doesn't want a share of that?!
Gene McCaffrey (The Athletic, @WiseGuyGene)
Pitcher: Noah Syndergaard – I'm having a rough time on Tuesday's so I'm taking a different tack and going pitching heavy with Berrios and Noah. Both are facing high-K offenses.
Hitter: Matt Carpenter – Looking hitterish, nice and cheap at $3800.
Jeff Boggis (Fantasy Football Empire, @JeffBoggis)
Pitcher: Madison Bumgarner – Pairing him with Syndergaard tonight. Bumgarner is cheap at $7,600 versus $10,100 for Syndergaard, and only averages 0.8 fantasy points per game less. I'm OK with this game being at Colorado today.
Hitter: Vlad Guerrero Jr. – He let me down last week, so he owes me a big game tonight at home against Minnesota starting pitcher, Jose Berrios. Time for Vlad Jr. to start warming up. He's cheap at only $3,600. Hope it begins tonight!
Anthony Aniano (Rotoballer, @AAnianoFantasy)
Pitcher: Cal Quantrill – After going 5.2 serviceable innings in his debut Quantrill get a second start against the offensively inept Mets who are averaging 1.67 runs over their last 3 games and haven't scored 4 runs since April 28. At $5700 Quantrill allows me to pay up at other positions.
Hitter: Chris Taylor – Taylor is 9 for his last 17 with 2 doubles, 2HRs, 6 RBIs and 1 SB. He's hitting .289 with 3 HRs versus lefties on the year and faces LHP Fried tonight. His price of $3600 is very friendly
Charlie Wiegert (CDM Sports, @GFFantasySports)
Pitcher: Jon Lester – He has pitched great over his last few starts and gets weak hitting Marlins. Should be good for 25+ points
Hitter: Javier Baez – Has been on fire and hitting the long ball, plus he torments lefties. Caleb Smith has been great at home, but Wrigley is different!
Dan Strafford (FNTSY Radio, @DanStrafford)
Pitcher: Noah Syndergaard – The San Diego Padres currently sit with the second highest K% against RHP on the year, at 26.5%. Over his career, Syndergaard has struggled about with the location of his fastball but was very effective with the four seamer last time out. This is a prime matchup for him to build on that success. The Padres sport a 3.2 implied run total with the Mets rising on the money line from -130 to -142. There are a lot of question marks around pitching today, especially on certain sites where SP pitching has contracted. Syndergaard gets top billing for me.
Hitter: Bryce Harper – I'll point out that Brandon Belt is underpriced at Coors Field, but the weather is far from ideal. So we'll spotlight Bryce Harper. Harper has obviously struggled on the season with a K% nearing 30% for the season thus far. His walk rate still remains elite. His hard hit rate and exit velocity remain consistent with his career norms. Tonight, he gets a matchup with Dakota Hudson. Hudson has yielded 2.63 home runs per 9 against LHB in his young career. I'll take the power of and upside of Bryce Harper at a slightly depressed price point.
Phil Hertz (BaseballHQ, @prhz50)
Pitcher: Thor – Banking on the last outing being the true Syndergaard. Plus San Diego's not an offensive juggernaut
Hitter: Justin Turner – Seems like a bargain price even though Fried's been pitching well. P.s. I'm another who thinks Belt's underpriced at Coors
Todd Zola (Mastersball, @toddzola)
Pitcher: Daniel Norris – Oy vey, what am I doing? The Angels are starting 3 LHB (including that Ohtani guy) and the rest (except that Trout guy) don't scare me.
Hitter: Joey Votto – This feels like such a donkey play, but at such a reduced price, leading off against Fiers, even on the road, call me Eeyore.
Michael Florio (NFL Network, @MichaelFFlorio)
Pitcher: Cal Quantrill – The Mets have the lowest wOBA in the majors over the last two weeks, as well as the fifth highest strikeout rate, and the second-lowest ISO in that span. Their offense has been abysmal and at just $5,700, Quantrill is a bargin in a favorable matchup at home. It allows me to also pay up for bats.
Hitter: Nolan Arenado – Getting a value at pitcher allows me to pay up for a bat and Arenado is my favorite on the slate. I get that MadBum has pitched better than anyone expected this season, but Coors Field will do him no favors. Plus, Arenado has always mashed lefties and this year in no different as he has a .371 average with a .450 OBP and a .486 ISO against southpaws. I am expecting him to mash in Coors tonight!
Clay Link (Rotowire, @claywlink)
Pitcher: Noah Syndergaard – I watched Thor filet the Reds his last time out, so this may be a case of recency bias, but he's been far better on the whole than the surface numbers would suggest.
Hitter: Justin Turner – Not hitting for power, and not hitting lefties so far this season. I'm betting on the latter being an aberration and that Turner gets a couple base knocks against Max Fried.
Jeff Erickson (Rotowire, @Jeff_Erickson)
Pitcher: Hyun-Jin Ryu – So many good pitching options, but I think Ryu might be the starter less traveled, but he's almost automatic at home.
Hitter: Eugenio Suarez – Suarez has woken up, and while losing the great venue to hit in hurts, he still gets Mike Fiers. I'm also rolling with a Rays stack.
Steve Gardner (USAToday Fantasy Sports, @SteveAGardner)
Pitcher: Jon Lester – Hoping the threat of rain will keep people away from the best matchup on the board. Marlins hitters have a .596 OPS vs. lefties.
Hitter: J.D. Martinez – Getting back to his familiar DH spot, he won't have to worry about robbing homers from O's hitters. He can concentrate on hitting them himself off the O's gopher-ballers.