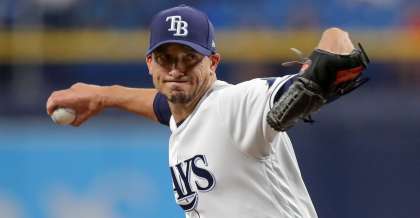 Tonight is the third week of Period 2. Can anyone slow down Phil Hertz? Here's how the Touts will go about trying.
Gene McCaffrey (The Athletic, @WiseGuyGene)
Pitcher: Charlie Morton – Call me lazy but any decent pitcher against the Marlins gets my money.
Hitter: Khris Davis – Testing the theory that he who is hot stays hot. Until he's not.
Phil Hertz (BaseballHQ, @prhz50)
Pitcher: Charlie Morton – I was surprised that he wasn't going for more. Any time you've got a good pitcher against the Marlins, it's almost de riguer to pick him
Hitter: Matt Olson – He's starting to roll and costs less than $4000.
Rick Wolf (Fantasy Alarm, @RickWolf1)
Pitcher: Caleb Smith – One of the most consistent pitchers on the slate and pivoting to him from Morton allows you to get Bregman into your lineup.
Hitter: Alex Bregman – Mashes left handed pitching and faces Carpenter tonight which should lead to many fantasy points.
Todd Zola (Mastersball, @toddzola)
Pitcher: Chris Sale – Need to fade Morton to make up ground (plus I don't play chalk on the road, too risky). Rox historically struggle on road vs. LHP, this is first game after a long Coors home stand, it's cold with wind blowing in and Sale's early woes have price relatively reasonable.
Hitter: Max Kepler – Bullpen game for LAA with Bedrosian and Pena, I'll take the opposing leadoff guy with the platoon edge under 4K
Mike Gianella (Baseball Prospectus, @MikeGianella)
Pitcher: Charlie Morton – I was going to get cute but agree with the peanut gallery. Morton against the Marlins at this price is impossible to pass up.
Hitter: J.D. Martinez – Martinez against a southpaw in Fenway doesn't seem fair.
Anthony Aniano (Rotoballer, @AAnianoFantasy)
Pitcher: Charlie Morton – The rule is simple: when it's a OK pitcher versus the Marlins you think about it and when it's a good pitcher versus the Marlins you do it. Charlie Morton is a good pitcher.
Hitter: Jose Martinez – He's hitting .339 on the season and he faces Foltynewicz who's allowing opponets to hit .271 this season with 2.7 home runs per 9
Jeff Boggis (Fantasy Football Empire, @JeffBoggis)
Pitcher: Charlie Morton – A no-brainer start in daily tonight. He will have his way with the Miami Marlins in this game.
Hitter: George Springer – Springer has 15 home runs on the season and has even added 4 steals this season. Hottest hitter over the past 2 weeks in fantasy baseball.
Derek VanRiper (Rotowire, @DerekVanRiper)
Pitcher: Wade Miley – Charlie Morton against the Marlins is a great cash-game play especially, but I need to diverge from the pack tonight with my second pitcher spot since Chris Sale is probably back in the Circle of Trust. Miley is throwing more cutters than I've ever seen a starting pitcher throw before, but he's inducing a lot of weak contact, and occasionally, he can rack up a half-dozen strikeouts as well. The discount on Miley leaves a lot more flexibility with stacks on the hitting side as well.
Hitter: Nicky Lopez – Since I'm taking a GPP approach with my stack and sliding a little lower in the order than usual, I wanted a potentially underowned cheap option at shortstop. Lopez had a sub-5% K% at Triple-A this season, and while I don't think he offers much power, he's debuting in the No. 2 spot for manager Ned Yost, and he has enough speed to be active on the basepaths if he's able to get on a couple times against Shelby Miller and the Texas bullpen.
Clay Link (Rotowire, @claywlink)
Pitcher: Jack Flaherty – He's had a brutal schedule so far, and the numbers are just fine considering. Coming off a two-strikeout outing and with another tough matchup on tap, I expect low ownership.
Hitter: Robinson Cano – Cano has a .289 xBA according to Baseball Savant, and he's down to a mere $3,500 on DraftKings. His xwOBACON, or expected wOBA on contact, is .423, his highest mark dating back to 2015. That seems like a good thing.
Steve Gardner (USAToday Fantasy Sports, @SteveAGardner)
Pitcher: Joe Musgrove – He had a fantastic start derailed by a back-to-back horrible outings. Can he bounce back in Arizona? I believe he can … and at $6500, he'll open up cap room for offense.
Hitter: Paul Goldschmidt – As his $4300 price tag indicates, there's a sense he's underachieved this season. .270/.350/.479 with 10 homers isn't too shabby for the first quarter. Taking aim at Mike Foltynewicz and his 5.94 ERA.
Patrick Davitt (BaseballHQ, @patrickdavitt)
Pitcher: Chris Sale – Sale. I looked at Morton, but every time I play a SP against MIA in DFS, he soils the bed. For the extra three Ben Franklins, Chris seems like he's on Sale.
Hitter: Hitter Name –
Jeff Erickson (Rotowire, @Jeff_Erickson)
Pitcher: Chris Sale – I'm not going to sweat the ownership percentage here, and go with the pitcher that's on a strikeout roll against a team that has a 25.7 K% against lefties.
Hitter: Michael Conforto – Loading up Mets against Jeremy Hellickson, nothing special to see here.