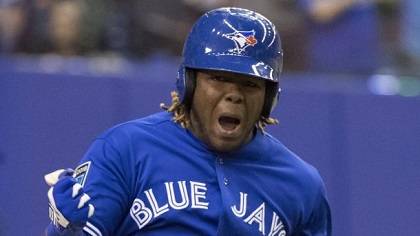 It's the final week of Period 2 with three more Golden Tickets up for grabs. Here are some of the players the Touts are counting on to got to the promised land:
Jeff Boggis (Fantasy Football Empire, @JeffBoggis)
Pitcher: Clayton Kershaw – Kershaw has quietly put together a nice string of games recently, winning 3 out of his last 4 contests. Fun fact: Current Tampa Bay Rays hitters have struck out 29.2% of the time against top-tier left-handed pitchers like Kershaw over the last two years (The League Average is: 20%).
Hitter: Vladimir Guerrero Jr. – Two weeks ago when Vlad Jr. was first available in Tout Daily, I started him and he did nothing. Last week, I went with someone else and Vlad Jr. hit 2 home runs. Going with Vlad tonight, although it's not the greatest matchup against Eduardo Rodriguez. He had the day off yesterday, is somewhat rested, and hopefully in for a big night!
Charlie Wiegert (CDM Sports, @GFFantasySports)
Pitcher: Spencer Turnbull – Anyone noticed how well Spencer has pitched lately. 1 run or less in 5 of last 6 starts, averaging one strike per inning, and he goes against the weak hitting Marlins
Hitter: Peterson & Senzel – The two highest priced guys in my lineup. both hitting lead off, and both with good pitcher matchups
Rick Wolf (Fantasy Alarm, @RickWolf1)
Pitcher: Caleb Smith – Very consistent strikeout pitcher with eight or more strikeouts in each of his last four games. He pitches tonight in Detroit where tonight's lineup has a total of 2 ABs versus him. The only two hitters to worry about are Castellanos and Cabrera who is not himself lately.
Hitter: Gary Sanchez – Super chalk play with this one, but need to make sure folks are going all in on him versus the Orioles' David Hess. Easy pickings, but paying up at catcher will force bargains other places. Like Minnesota stack if you cannot afford the Yankees stack.
Phil Hertz (BaseballHQ, @prhz50)
Pitcher: Clayton Kershaw – Rays look like a good match-up for Kershaw
Hitter: Ronald Acuna – Coming off a big game ; going against a shaky rookie.
Howard Bender (Fantasy Alarm, @RotobuzzGuy)
Pitcher: Julio Teheran – He's been a stronger pitcher over his last five starts and has learned to handle left-handed hitting better. Not that it matters much with a start against the Triple-A SF Giants in a cold, damp setting at pitcher-friendly Oracle Park. Even with the wind blowing out to right, I don't worry about the Giants lefty bats at all.
Hitter: Kike Hernandez – While Hunter Wood is opening, it should be lefty Jalen Beeks on the hill for the Rays through the middle innings. Hernandez is super cheap today and has an .891 OPS with a .380 wOBA against southpaws this season. You're going to need to squeeze some bargain bats into your lineup with the way the pitching is priced again.
Gene McCaffrey (The Athletic, @WiseGuyGene)
Pitcher: Michael Wacha – I have to gamble with Verlander at the top of my ticket, so I'm going with a home start against a mediocre Royals team with no DH
Hitter: Gary Sanchez – I want some Yankees tonight, and Sanchez cleary has the best chance to hit a home run (or two!) of any catcher.
Anthony Aniano (Rotoballer, @AAnianoFantasy)
Pitcher: Spencer Turnbull – A starting pitcher for only $7800 against the Marlins who score the fewest runs per game in the league. He has allowed 5 ER with 24 Ks over his last 22.2 innings pitched.
Hitter: Scott Kingery – Versus a lefty this season, Kingery is hitting .333 with a home run and 3 RBIs with only 1 strikeout (albeit a small sample) but he has 4 of his 10 career HRs versus lefties in his brief career.
Jeff Erickson (Rotowire, @Jeff_Erickson)
Pitcher: Gio Gonzalez – The Reds have the second lowest wOBA on the road this year, have had trouble scoring generally and Gio has been cromulent lately. His $7.4K price allows me to afford a lot of good hitting.
Hitter: Dan Vogelbach – Lance Lynn has an Airplane ERA at home (7.27), so I'll try to load in some Mariners (and Rangers) for a potential shootout.
Clay Link (Rotowire, @claywlink)
Pitcher: German Marquez – Marquez has been great away from home, posting a 2.55 ERA, 2.89 FIP and .223 wOBA in 35.1 innings away from Coors Field. He heads into one of the more pitcher-friendly venues in the league to face a Pirates team that ranks 20th in the league in wRC+ vs. RHP.
Hitter: Vladimir Guerrero Jr. – Going back to this well again and again and again, until the cost aligns more closely to the skills (currently $3900 on DraftKings).
Todd Zola (Mastersball, @toddzola)
Pitcher: Julio Teheran – I prefer using my DFS pitchers at home but when Oracle Park is Plan B, I'll take it.
Hitter: Michael Brantley – Astros pricing prohibits a stack, but I'll get some exposure to Dylan Covey