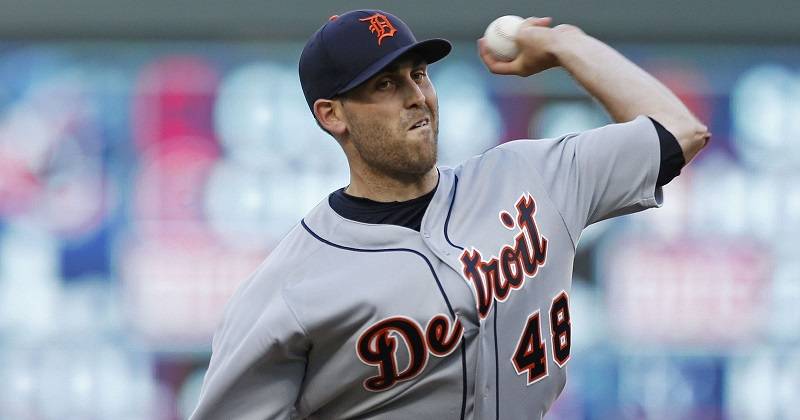 It's a clean slate as tonight marks the first week of Period 3. Here's who the Touts are looking at to get the next segment off on the right foot.
Dan Strafford (FNTSY Radio, @DanStrafford)
Pitcher: Dylan Bundy – Bundy's price is a bit elevated on DraftKings but should serve as a good pivot off of Nick Pivetta (remember the preseason hype for NP and now his elevated K% in minors should help that again). While Bundy can struggle mightily with the long ball, he gets a very solid matchup against Detroit. Their active roster ranks in the bottom half of the league in ISO agaisnt RHP and have a K% of over 26% on the season which is good (bad?) enough for second overall.
Hitter: David Dahl – Dahl's price point at Coors Field stands out as a great discount. If priced as a typical Coors hitter there might be some reasoning for really diving into a bit of struggles with K's on the year. But he stands to be fairly highly owned and with good reason. On the year he sports an ISO of .188 while Kelly has outperformed his underlying numbers, especially on his four seamer to date.
Jeff Boggis (Fantasy Football Empire, @JeffBoggis)
Pitcher: Matthew Boyd – Over the past 10 games pitched, Body has impressed with an ERA of 2.92 and a WHIP of 0.99. He takes on the Detroit Tigers on the road tonight. Salaried at $10,300.
Hitter: Austin Riley – Riley has hit successfully in 9 of his first 11 games since being called up by the Braves. He is hitting .341 with 5 home runs and 14 RBI. He's batting 6th tonight and faces Washington SP Strasburg at home. Salaried at $4,000.
Howard Bender (Fantasy Alarm, @RotobuzzGuy)
Pitcher: Marco Gonzales – Love the price here which is likely surpressed by his lack of strikeouts. But he's facing a Texas team that is posting a .286 wOBA with a 27.4% strikeout rate over the past week and strikes out nearly 29% of the time against southpaws. Not to mention the most dangerous hitters on the Rangers are left-handed and lefty bats are posting just a .280 wOBA against Gonzales.
Hitter: Max Kepler – Why not go with one of the hottest hitters in baseball (.500 with 3 HR, 10 RBI, 1 SB over last 7 games) leading off for the hottest-hitting team in baseball? Zach Davies has struggled against left-handed hitting since he returned and Kepler is sporting a .940 OPS against right-handed pitching this season.
Anthony Aniano (Rotoballer, @AAnianoFantasy)
Pitcher: Max Fried – For $8,100 Fried is pitching to a 2.88 ERA and 8.1 Ks/9. In his last 17IP he has 17Ks to only 5 earned runs. Washington is currently 19th is runs per game and OPS.
Hitter: Alex Bregman – Bregman for $4,800 versus Jon Lester. For his career Bregman is a .300 hitter versus lefties with 21 home runs.
Gene McCaffrey (The Athletic, @WiseGuyGene)
Pitcher: Max Fried – Bargain priced home start, Fried keeps showing that he's the real deal.
Hitter: David Dahl – If he's super-popular tonight, well, he should be. Sometimes you just have to beat the crowd somewhere else.
Jeff Erickson (Rotowire, @Jeff_Erickson)
Pitcher: Dylan Bundy – For thrills-seekers only. The last time I used Bundy it was in the infamous KC home blowup, so I'm playing with a chemical fire here, but he gives me savings with K upside against a bad lineup. Plus I'm guessing none, er, few of my esteemed colleagues will opt to use him. Also, I'm fading Fried because the Nats hit lefties well, and because it should be hot in ATL.
Hitter: Renato Nuñez – Nuñez has a .998 OPS against LHP's, and an .874 OPS at home vs. .661 on the road. Even though the opposing starter is Matthew Boyd, I still like the matchup.
Tim Heaney (Rotowire, ESPN, @Tim_Heaney)
Pitcher: Rich Hill – Trying to shift a little bit but stay within the top tier of starters. This Mets lineup can do well against lefties, but Hill should breeze through this one at home.
Hitter: Niko Goodrum – Leading off against Dylan Bundy means at least two chances at the talented but homer-prone starter — or, better yet, more cracks at this bullpen.
Steve Gardner (USAToday Fantasy Sports, @SteveAGardner)
Pitcher: Trevor Richards – Richards has been good against bad teams and bad against good teams. He gets one of the majors' worst offenses (the Giants) at home.
Hitter: Lorenzo Cain – The Brewers face the Twins' Devin Smeltzer, who's making his MLB debut. I'm banking on their leadoff guy getting 5 or more at-bats.
Todd Zola (Mastersball, @toddzola)
Pitcher: Rich Hill – Mets offer decent strikeout potential and It never rains in California, but girl, don't they warn ya? It pours, man, it pours — but not tonight.
Hitter: Rafael Devers – I'm a self-admitted wuss and avoid weather games like the plague. That said, my sticking my head out the window forecast for Boston (I'm maybe 25 miles west) says the game will play and Devers is dialed in.
Charlie Wiegert (CDM Sports, @GFFantasySports)
Pitcher: Matt Boyd – He's been pitching great, just wish Chris Davis was in the lineup to get 4 K's!
Hitter: Freddie Freeman – He's been raking lately and will take Strasburg deep tonight!