Over the next few days we'll take a look at the state of the pennant races  around Tout Wars. 
The top two spots in Tout AL are held by former Tout Mixed Auction champions, Chris Liss and Mike Podhorzer. Both think that Liss's 10.5 point lead is probably safe. Here are the standings through Friday night's games (if you want to dig deeper into the team's rosters and transactions, click here):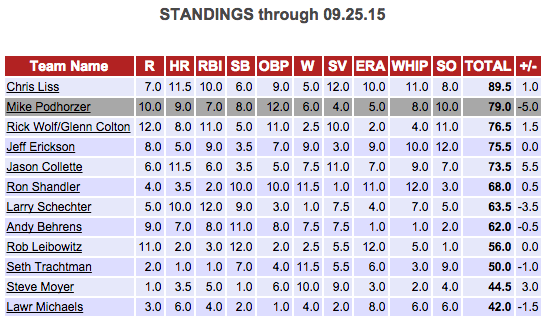 But both also know that Mike has a chance. Mike says:
My hitters need to actually be in the lineup and reverse my team's second half offensive slide. Also, it would be wonderful if my starting pitcher's teams scored some runs for them so they could earn wins. As I type this, just three wins gains me four points! A big week of saves would also be huge. With two closers, I have the potential to gain a couple of points in the category as well. It's going to be a challenge to take back the lead for sure, but there still remains a sliver of a chance. I think Liss' preemptive pickup of Correa was clearly the move of the season!
Liss picked up Carlos Correa for $1, reduced by Vickrey from $34. That's right, nobody else bid. Liss had to bide his time, Correa wasn't called up the Houston until a month later, but he has been well worth the wait. Note that on the day Liss bought Correa he was in second place, a few points behind Podhorzer. On the day Liss was finally able to promote him, he was a few points ahead of Podhorzer. Their standings had reversed. Liss hopes it stays that way.
My team needs simply not to blow it. Pitchers keep their ERA under 4.5, WHIP under 1.4, hitters show up and be okay. Hopefully Mike's team takes the week off, just so I don't have to sweat it.
We'll see.