By Nick Shlain, special to toutwars.com
Each auction is unique, and none more so (if something can be more unique, at all) than the CBSsports Analysts Auctions. CBSsports' holds their auctions in mid-February, before the start of spring training, and the onslaught of news about players that come with that. Perhaps because of that the CBS analysts draft has some other qualities of note.
Roto Think Tank's Mike Gianella (rotothinktank.blogspot.com), a former CBS Analsyts champion (2009 AL, 2010 NL) and third place finisher in 2010 Tout Wars, was kind enough to correspond with me about this year's auction.

Mike: "One adjustment that I make for CBS is to tweak my prices up a little bit on the top players. In the four years that the CBS auction has taken place, the prices on their top players have been far more aggressive than the prices in either the League of Alternative Baseball Reality (LABR) or Tout Wars."
Robinson Cano went for $49, Nelson Cruz for $40 and Adam Dunn for $38. Mike isn't kidding here. There clearly is a premium on star caliber players in CBS Analysts, and as a result, there is less money to spend later.
Mike: "In a re-auction setting like CBS, I don't devise a specific strategy. I simply try to conduct a "value" auction in the hopes of buying more value than anyone else in the room. If prices for a certain commodity are going higher or lower than anticipated, I adjust as I go along so that I don't wind up doing something counterproductive like buying four closers or three top base stealers and weakening myself elsewhere."
If Cano is going for $49, Kinsler at $29 is a steal. If Dunn is going for $38, give me A-Rod at $34. If Victor Martinez goes for $25, I'll take Mauer at $31 (see? it works the other way too). At the end of the day, of course, it matters who is actually on your team, but at what price you paid is also very important.
Mike: "My goal isn't to overpay for the top talent, but rather to make sure that I do spend all of my money in the auction and don't accidentally wind up with a pile of cash at the end while everyone else has spent their money. While there are bargains at the end of CBS because most owners are overspending at the beginning, if you leave $20 or $30 on the table, you will negate your pricing advantage."
You don't want to walk out of the auction room with money in your pocket. What you do want is a balanced roster, since trades aren't always available in these sorts of leagues.
Alright, let's look at Mike's team.
Varitek, Jason C BOS $1
Moore, Adam C SEA $1
Kotchman, Casey 1B TB $1
Ackley, Dustin 2B SEA $2
Young, Michael 3B TEX $14
Aybar, Erick SS ANA $9
Izturis, Maicer 3B ANA $1
Kouzmanoff, Kevin 3B OAK $10
Ellsbury, Jacoby CF BOS $28
Suzuki, Ichiro RF SEA $28
Willingham, Josh LF OAK $11
Young, Delmon LF MIN $24
Sizemore, Grady CF CLE $18
Matsui, Hideki DH OAK $8
Dotel, Octavio RP TOR $7
Gonzalez, Gio SP OAK $12
Price, David SP TB $23
Blackburn, Nick SP MIN $1
Cahill, Trevor SP OAK $15
Santana, Ervin SP ANA $11
Bailey, Andrew RP OAK $19
Buchholz, Clay SP BOS $15
Wheeler, Dan RP BOS $1
Mike: "From a valuation perspective, I hit the ball out of the park. With the exception of my $1-2 players, almost every player I bought was a $2+ bargain based on the bid prices I walked into the auction with. The problem I had was that outfield prices across the board were much softer than I anticipated because of the high prices early on, so that the "bargains" I bought weren't as strong in the overall context of the auction. Getting Josh Willingham at $11, for example, was solid, but I would have been better off with Franklin Gutierrez at $8. Hideki Matsui should earn more than the $8 I paid for him, but I could have waited for Jim Thome and got him for $2-3. Willingham and Matsui were both "bargains", but since there were greater bargains waiting at the end of the auction, the price I paid in opportunity cost likely wasn't worth it.
As a result, the team I have is very soft on the hitting side. I'm weak in HR/RBI/runs, and the $1-2 hitters I purchased aren't good candidates to out-play their playing time projections. I won the CBS A.L.-only league in 2009 following a similar blueprint, but the endgame players I bought this year are less likely than the ones I bought in 2009 to garner significant playing time and provide decent value at the bottom half of my offense. I have a good team, but it isn't the strongest team coming out of the auction."
Even the experts second guess themselves, apparently. Still, to Mike's credit, he didn't spend his money on garbage. When he spent it, he got value. He has a closer (Bailey), a speed guy (Ellsbury), and a perennial .300+ hitter (Ichiro), who he can always trade and try to make up for his lack of HR/RBI/runs. But, yes, overall I think that he should've waited out his competitors on starting pitching, and improved his offense.
Lastly, let's take a look at Mike's favorite pick.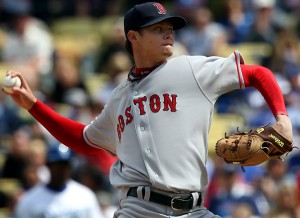 Mike: "I had a lot of bargains based on my personal bid prices. Of all of them, I like Clay Buchholz at $15 best. He might regress somewhat this year, but even when you take his interiors into account, he's still a solid No. 2 pitcher and at age 26 there is still room for some growth. Michael Young at $14 is obviously my best buy if he stays in the American League (you can't keep players traded to the "other" league in CBS). I think there's a good chance the Rangers don't find a taker for Young and he stays."
Before Spring Training, when this auction took place, it looked like there was a good chance Young was going to the Colorado Rockies, but it looks like Mike got it right. As the saying goes, to the victors go the spoils.
I'm inclined to agree with Mike on Buchholz as a bargain for $15. There will certainly be some BABIP regression—Buchholz had the largest gap between his ERA (2.33) and SIERA (4.29) of any pitcher last year—so, don't expect him to put up another ERA below 3.00. Still, he's a very talented young pitcher with fantastic stuff on a great team. BP's PECOTA system projects Buchholz to increase his strikeouts in 2011, which will help him offset regression on his way to a 3.65 ERA. Regression? Yeah, you betcha. Falling off a cliff? No.
The bottom line here is that leagues have different characteristics based on the rules of play, draft date, personality of the participants and many, many more factors. The better you understand how things are going to go, the better you can adjust your strategy to take advantage. Being forearmed is how you win leagues twice in a row.