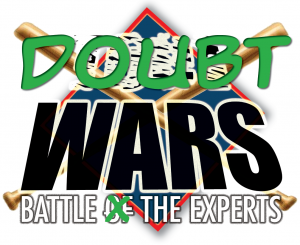 Each of the winners will receive: A package of Ron Shandler's 2014 Baseball Forecaster, the 2014 Mastersball Platinum Package , Rotoman's 2014 Fantasy Baseball Guide, the 2014 Rotowire Baseball Guide and the 2014 Patton $ Software and Data.
UPDATED: Oct. 5, 2013 at 6pm, with additional teams in the spreadsheet, and the NL champ's name spelled correctly. UPDATED January 17, 2014 Spelled AL Civilian Champ's first name correctly.
DOUBT WARS AL: Glenn Colton/Rick Wolf.
Civilian Champ: Andrew Pappas.
Runners Up: Eugene Freedman, Noah Hirsch
DOUBT WARS MIXED: Tim George
Pro Champ: Paul Singman
Runners Up: Jon Hrobuchek, Brent Crossman
DOUBT WARS NL: Jeffrey Pelletier
Pro Champ: Tristan Cockcroft, Todd Zola
Runners Up: Scott Katz, Justin Dowling
Tristan Cockcroft finished second to Todd Zola in the Draft Day Standings for Tout Wars, but his strong ERA and WHIP elevated him past Todd in Doubt Wars. Tristan, however, finished 200 innings short of the Tout Wars minimum. We didn't anticipate that in Doubt Wars, but it seems less an issue for a Pro team than a Civilian team. Tristan certainly wasn't gaming Doubt Wars.
Here are the standings for each league (click to enlarge):
DOUBT WARS AL

DOUBT WARS MIXED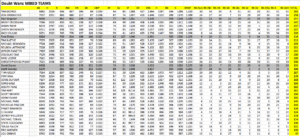 DOUBT WARS NL

If you would like to download the spreadsheet compiling the final standings, please click here.