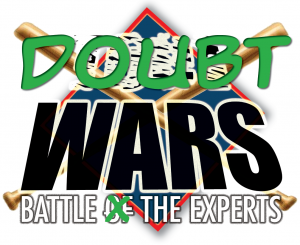 Yes, with the end of the Tout Wars season comes the end of Doubt Wars, the game where people buy the players bought in Tout Wars (+$1) and try to put together better teams.
Only one team, The Good Doctor in the Mixed League, was able to beat the Tout Champ this year. The Good Doctor did it with a pitching staff that included Trevor Bauer, Gerrit Cole, Patrick Corbin, Justin Verlander, Blake Snell, Charlie Morton, Blake Treinen, Brad Boxberger, and Sean Doolittle. Wow!
The Good Doctor is Robert Mirshak, and he edged Tout Champ Tim Heaney's team, which finished second.
In Doubt NL the top three teams beat the top civilian, Splinters. Steve Gardner, Tristan Cockcroft and Grey Albright repeating their order of finish, with the Splinters just behind Albright. The Splinters is Warner Lewis.
Rick Wolf and Glenn Colton, Tout AL champs, trounced the AJ Puks, who finished second with the top civilian score.  The AJ Puks were played by Mark Fass.
Robert Mirshak, Warner Lewis and Mark Fass will be receiving a collection of baseball annuals and online memberships this winter to help their preparation for 2019. But that isn't why we play, is it?
You can see final standings and point totals for all three leagues by clicking here.
Congratulations to all the winners.