Week 4 of each Tout Daily by RTSports.com period is all about the finals. Who made it? Who fell short?
Mike Gianella made a run for it, with an 84.66 point week, finishing solidly ahead of Ray Murphy and Chris Liss, but wasn't quite able to close the gap. He finished fourth overall for the period.
Golden Tickets to the August 26th Tout Daily Finals go to Tristan Cockcroft, the three week leader, Rick Wolf, who finished first in Week 1, and Tim Heaney, who held on after tying Wolf in Week 1 and winning Week 2 all on his own. Wolf and Heaney were Top 10 finishers in Week 4, and they needed it.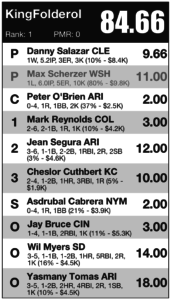 Gianella rostered two of the game's best pitchers, Max Scherzer and Danny Salazar, but it was outsized hitting from Jean Segura, Cheslor Cuthbert, Wil Myers, and Yasmany Tomas that carried him to victory.
Scherzer got the strikeouts against a Milwaukee team that produces strong winds by the lake, but wasn't able to produce a victory.
Salazar was staked a nice lead against Detroit, but his command issues ran up his pitch count and cut his stint short. He took home a Win but struck out only three.
Other Top 10 pitchers on the week: Jake Peavy (13), Aaron Sanchez (8), Zach Davies (11), Jameson Taillon (2), Scherzer (11), Masahiro Tanaka (14), David Price (-2.67), Steven Matz (-1.67).
Scherzer was rostered by 80 percent of RTSports.com's teams last night.
While the pitchers struggled, the hitters feasted. Other 10+ point earners were Willson Contreras (10), Melvin Upton (15), Jacob Lamb (10), James Loney (13), and Matt Joycer (11).
Yasmany Thomas's 18 points was the big score of the night. The Cubs catcher Willson Contreras was rostered on 25 percent of teams and scored 10 points. The Diamondbacks Phillip Gosselin was rostered by 36 percent of teams and scored no points, going 0-5.
The Touts will gather next Friday for the start of Period 4 of Tout Daily by RTSports.com, the fourth of five four-week contests to distribute 15 tickets to the finals.
In addition to Cockcroft, Wolf, and Heaney, tickets have already gone to Jason Collette, Jeff Erickson, Brian Walton, Patrick Davitt, Rob Leibowitz, and Patrick Mayo.
You can follow all the action on Friday nights at RTSports.com. Use the same link all week long to play for prizes or fun.
The complete leaderboard is here. Next week we start over.