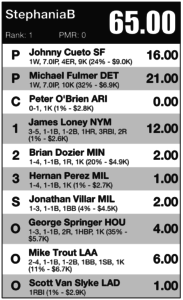 Stephania Bell didn't play Tout Daily by RTSports any of the four weeks of Period 3. She was busy, work and life got in the way, one has to prioritize. But when she was ready to play, in Week 1 of Period 4, her team exploded, popping into first place late in the evening on Johnny Cueto's win over the Arizona Diamondbacks.
Cueto wasn't Bell's best pitcher. Reserve that spot for Michael Fulmer, whose 10 strikeout winning performance against Tampa Bay was the biggest scoring game on the night.
And some of her hitters contributed, too, mainly James Loney, owned by one percent of RTSports owners last night, had a homer and a double on his way to 12 much-needed points. Having Mike Trout didn't hurt.
Bell finished just two points ahead of Scott Engel, who had also taken a leave of absence in Period 3. Engel got a fine night from Jaime Garcia, who won his game versus the Brewers, and strong hitting performances from Kendrys Morales (playing right field!), Chase d'Arnaud (who cost only $1.6K), and Mookie Betts. Brett Lawrie, Carlos Correa and George Springer contributed four points apiece.
Speaking of Springer, his name is on the roster of six of the top seven finishing teams on the night, though his four points (at a cost of $5.7K) was not particularly efficient. Perhaps it is telling that he was also the night's last-place finisher's roster.
Three teams missed the unusual 6:05pm early start of the week's contest. They were not allowed to play for the night's championship, but were allowed to submit rosters before the 7:05pm regular start so they could compete in Period 4 overall.
Top 10 pitching performances (pitchers on teams that finished in the Top 10): Johnny Cueto (16), Michael Fulmer (21), Jaime Garcia (17), Ian Kennedy (10), Bud Norris (18!), Julio Teheran (7.66), Steven Wright (8), Jacob deGrom (15).
One final note: It looked like a good night to stack hitters from the Texas teams, but it was not.
One extra final note: Eno Sarris finished 10th and got no, zero, nada, nunca points from his outfielders, Ryan Braun, Adam Jones and Angel Pagan.
See the whole Leaderboard here.
You can play RTSports.com's daily fantasy games for prizes or fun every day of the week. Click here to start!