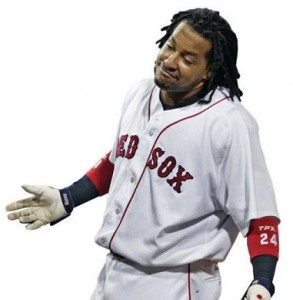 By Larry Schechter, three-time Tout Mixed champion
The e-mail from Scott Pianowski arrived at 6:20 PM on Thursday, May 6th. It read "Morgan for Manny sounds fair to me. Want to do that?" I knew I had to do it. I had to make this trade. But I also knew it was going to take me a little while to process. I was going to need at least a couple of hours before I could say yes.
As a junior in high school growing up near Albany, NY, I jumped on the Red Sox bandwagon in 1975 and have been a die-hard Red Sox fan ever since.
I ended up going to college at Boston University, and stayed in Boston after college until 1993, when I moved back to the Albany area. I was at the Bucky Dent game. I was at the first Clemens 20 Ks game. I was a season ticket holder the last three years I lived in Boston. I have gone back every year to see at least a couple of regular season games and I've been at several playoff games.
When I began playing fantasy baseball back in the early 1990s, I quickly learned to separate my rooting desires and my fantasy team. In fact, it didn't take long before I always made my fantasy team #1 over the Red Sox or any other considerations. I've often had more Yankees than Red Sox on my various teams. But the thought of acquiring Manny for my Tout Wars team was troubling. Manny had always been one of my favorites. It was a joy to watch him hit and root for him. He was my son's second favorite player after Big Papi. Continue reading "SCHECHTER: Time to Forgive Manny?"