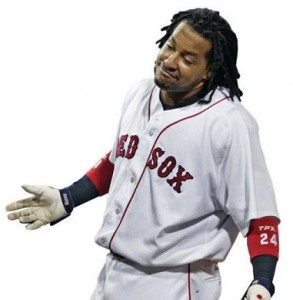 By Larry Schechter, three-time Tout Mixed champion
The e-mail from Scott Pianowski arrived at 6:20 PM on Thursday, May 6th. It read "Morgan for Manny sounds fair to me. Want to do that?" I knew I had to do it. I had to make this trade. But I also knew it was going to take me a little while to process. I was going to need at least a couple of hours before I could say yes.
As a junior in high school growing up near Albany, NY, I jumped on the Red Sox bandwagon in 1975 and have been a die-hard Red Sox fan ever since.
I ended up going to college at Boston University, and stayed in Boston after college until 1993, when I moved back to the Albany area. I was at the Bucky Dent game. I was at the first Clemens 20 Ks game. I was a season ticket holder the last three years I lived in Boston. I have gone back every year to see at least a couple of regular season games and I've been at several playoff games.
When I began playing fantasy baseball back in the early 1990s, I quickly learned to separate my rooting desires and my fantasy team. In fact, it didn't take long before I always made my fantasy team #1 over the Red Sox or any other considerations. I've often had more Yankees than Red Sox on my various teams. But the thought of acquiring Manny for my Tout Wars team was troubling. Manny had always been one of my favorites. It was a joy to watch him hit and root for him. He was my son's second favorite player after Big Papi.
My son, Jared, age nine at the time, and I were at Fenway Park for game two of the ALDS against the Angels in October, 2007. Manny hit a walk-off homer against K-Rod in the bottom of the ninth. That was one of the best moments I've ever witnessed in sports. Right after the homer, Jared said, "It doesn't get any better than this." But then I saw Manny quit on the team in 2008. In fact, Jared and I happened to be at Fenway Park on July 29, when John Lackey no-hit the Red Sox for 8⅓ innings. The no-hitter could have been broken up earlier, when Manny hit a weak grounder that he might have been able to beat out for a hit, but he didn't bother trying. He jogged down to first base. So there we were, Jared and I, having driven all the way to Boston, suffering through eight innings of watching the Red Sox go hitless, and now I had to try to explain to my son why a paid major leaguer would neglect to run out a ground ball.
This is a fundamental my son had already learned in Little League: when you hit the ball, you put your head down and run as fast as you can to first base. My son didn't say it at the time, but I was thinking: "It doesn't get any worse than this." As it turned out, that was Manny's last game as a Red Sox. He was traded to the Dodgers two days later. His failure to run out the ground ball was the last bad choice in a long list of them, including refusing to pinch-hit, missing games and blaming a hamstring injury that didn't actually exist, and pushing down a 65-year-old member of the Red Sox staff because he couldn't get tickets for a game.
It was obvious to me that Manny had quit on the team because he didn't want the Red Sox picking up their team option of one year for $20,000,000. Manny thought he could get four years for $100,000,000 as a free agent. I was disgusted with him. I was very glad to see him go. As soon as he got to the Dodgers, his hamstring injury magically cleared up. In 53 games with the Dodgers, he hit .396 with 17 home runs and 53 RBIs. This angered me more. He could have been doing this for the Red Sox if he had given them his full effort instead of quitting on them. And it angered me to see the Dodgers fans treat him like a hero.
"Don't you know he just quit on a team?" I wondered. "Don't you realize the second he becomes unhappy about something, he'll quit on your team, too?"
I was bitter. Very bitter. But after a few weeks of the 2010 Tout Wars, it became apparent that I had a surplus of stolen bases. After the auction, I projected my team would be the second best for stolen bases. But I was only counting on 9 from Chase Headley. He already had 8 after just a few weeks. He was on pace to steal 50. And I was only expecting 15 from Rafael Furcal. He was on pace for 70. I wasn't expecting them to continue at that pace all year, but I figured Headley should end up with 20-25; and Furcal finally looked fully recovered from the ankle injuries that had slowed him down the past two years. He should be good for at least 25-30. And since my team was already the league leader in stolen bases, five ahead of the next best team, I was now projecting my team would lead the league comfortably at the end of the year. Therefore, it was obvious I needed to trade some of my surplus stolen bases and address other categories.
Back when I left the auction, I'd thought I'd put together a very strong pitching staff, but it had turned into a nightmare. I was having flashbacks to last year, when my mixed Tout Wars team got one start from my ace, Brandon Webb, before he missed the rest of the year. And then, disastrous outings by Chien-Ming Wang and Fausto Carmona drove my team's ERA up to 9.25 and my WHIP to 1.82 after two weeks. I spent the rest of the year hopelessly trying to catch up.
This year, except for Tim Lincecum, my starting pitching was a disaster. My No. 2 starter, Jair Jurrjens, who I figured was worth about $20, had thrown 24 innings with a 6.38 ERA, no wins, and then landed on the DL. My No. 3 starter, JA Happ, threw 10 innings and went on the DL. My other four starters, Vicente Padilla (6.65 ERA), Bud Norris (7.52 ERA), Charlie Morton (10.30 ERA), and Kyle Lohse (5.45 ERA) were all killing me. I had benched Morton and Norris for various starts, but they actually pitched better when they were on my bench. And I replaced them with Nick Masset, who had an ERA of 7.88, and Tim Stauffer, who pitched well, but then—you guessed it—went on the DL.
So after four weeks, my team ERA was 5.36, my WHIP was 1.46, I only had 8 wins, and four of my pitchers were on the DL. My team was last in the league in ERA and WHIP, and next to last for wins. The good news was that despite having only a total of four points in these three categories, my team was miraculously in first place. I sent an e-mail to the other Tout owners, offering speed (Nyjer Morgan, Luis Castillo, or Rafael Furcal) for a starting pitcher. I did not want to trade Headley, because I was expecting about 15 home runs from him. If I traded Morgan or Castillo, I'd be giving up stolen bases but virtually no power. Furcal would only cost me about 8 home runs. I expect that home runs will be a closely contested category, with my team in the middle of the pack, so ideally I wanted to trade my excess speed without also hurting my power.
Over the following days, I had several trade discussions with a few owners. Brian Walton was willing to deal Roy Oswalt or Chad Billingsley, but he was more interested in a power hitter than speed. Mike Gianelli wasn't willing to part with Matt Cain, and he wanted too much for his next best starters, Kenshin Kawakami and Paul Maholm. I had more discussions with Scott Pianowski than with anyone else. His team was last in stolen bases, so he was very interested in acquiring speed. He definitely seemed like my best possible trading partner. After several unsuccessful attempts at a deal, we got down to his offering Johnny Cueto or Bronson Arroyo for Luis Castillo. This was a pretty fair offer. I had bought Castillo for $9 at the auction, thinking he was worth $12. Scott had paid $9 for Cueto and $8 for Arroyo, whom I had originally valued at $11 and $10, respectively. Although this was a pretty fair deal, I had reservations.
After getting off to a great start last year, Cueto was pretty bad down the stretch. And after the first month this year, he had a 5.33 ERA and 1.52 WHIP. If the auction were held now, I'd no longer view him as an $11 pitcher. Sure, he could still improve and be an $11 pitcher the rest of the way, but I felt it was risky. I wanted to get a little more for him if I were going to take on that risk, or to take Arroyo instead. I asked Scott to add one of his original reserves, Omar Infante, who I thought was worth a couple of bucks. I thought that would make the deal fair and he'd be a better guy to replace Castillo than my other option, Alex Cora, who was on my bench.
But Scott wasn't willing to do that. He didn't agree that Castillo was worth more than either Cueto or Arroyo. So nothing happened. A couple of days later, I started thinking that if I couldn't get a starting pitcher, it would be a good idea to get a power hitter. I definitely needed to trade my excess speed, and an upgrade in the power department would take my team from the middle of the home-run pack and put it in the upper echelon. It also occurred to me that if I did trade speed for power, I might be able to make a deal with Brian Walton after all. I would have an extra power hitter to offer him for Oswalt or Billingsley.
I took another look at Pianowski's team. He was actually doing pretty well in the power department, so I thought perhaps he'd be willing to deal power for the speed he needed. I sent him an e-mail, and he was open to the idea. He asked if I was interested in Glaus or Francoeur. This led to an exchange of offers and ideas. At one point, I thought I might be able to score the starting pitcher I had wanted, plus some power. I offered Nyjer Morgan for Francoeur or Aubrey Huff and Arroyo. The offer was rejected.
And then it hit me. Manny for Nyjer, straight up. My stomach immediately started doing cartwheels at the thought of acquiring Manny. But I thought Pianowski just might go for this deal. The values were very close. And Manny's 20-25 home runs and 85-90 RBIs were going to help me a whole lot more than Nyjer's 45 stolen bases that I didn't really need. As I wrote the e-mail to Pianowski offering Nyjer for Manny, I was thinking "It's only Thursday; I don't necessarily even have to keep Manny. I've got three days to try and trade him to Brian Walton, or maybe Manny would be enough to entice Gianella into parting with Matt Cain."
The response from Pianowski arrived at 6:20 PM on Thursday, May 6th. It read "Morgan for Manny sounds fair to me. Want to do that?" I knew I had to do it. I had to make this trade. But I also knew it was going to take me a little while to process. I was going to need at least a couple of hours before I could say yes. So I took my time to digest the thought of acquiring Manny. My thoughts ranged from "I still have three days to try and trade him," to "I must put my fantasy team's needs above all else," to "It used to be fun rooting for Manny…maybe it's time to forgive him?"
After a few hours, I accepted the deal and it was done. Manny was now officially on my team. But I wasn't necessarily going to keep him. Trading him for a starting pitcher was definitely appealing. After all, a pitcher was what I really needed, wasn't it? I did an examination of the current league standings and my projections, and tried to estimate what would happen if I kept Manny, or if I traded him for someone like Billingsley or Cain. The result was extremely even. I was clearly better off having traded Nyjer for Manny, but at this point, it didn't really matter if I kept him or got a starter. I would lose about the same amount of hitting points as the pitching points I would gain. Given this analysis, I decided to hold off on a possible deal with Brian Walton. I had reservations about Oswalt (still an injury risk) and Billingsley (he pitched poorly in the last month of 2009 and hadn't been all that good so far this year). I wasn't willing to trade Manny straight up for either of them, and even if I could get Walton to add something to a deal, I still wasn't excited about the idea of getting Oswalt or Billingsley. I felt better about Cain, so I sent an offer to Gianella. I offered him Manny, Ludwick, or Cantu for Cain. Gianella still wasn't willing to deal Cain. So that was it. The Sunday night trade deadline was going to pass, and Manny would still be on my team for Monday's game…
…So there I was on Wednesday night, May 12, sitting in front of the TV watching the Dodgers-Diamondbacks game. In the 7th inning, Edwin Jackson intentionally walked Andre Ethier to bring up Manny with the bases loaded. Manny hit a rocket in the gap for a bases-clearing double. I wasn't excited. His three-RBI double did not bring me joy. Was it because I just couldn't bring myself to forgive him? Was it because I couldn't forget how it felt to watch him jog lackadaisically down the baseline against John Lackey? Was this the one time in nearly twenty years that I couldn't put my fantasy team ahead of my personal feelings?
No. It was because Edwin Jackson was starting for two of my NFBC (National Fantasy Baseball Championship) teams.