Fred Zinkie writes:
As if 162 games wasn't enough, my Tout Wars journey is going to last one more day!  After a full slate of regular season action, I lead David Gonos by one point.  This is the closest race I've even been a part of, and that includes when I won this league in 2011 at around10:00pm on the final day of the regular season.  If the Blue Jays had finished their comeback on the Rays this afternoon, I'd be bathing in Yoo-Hoo right now.  But they fell one run short, so I will sleep lightly for one more night.
No matter what happens in Monday's game, I'm not moving.  I would take some surprising performances to push me off the 120-point mark.  I lead Patrick Davitt by one RBI, and he doesn't have any hitters left.  I don't have any pitchers to threaten Scott Swanay and his four-strikeout lead (well, I do have Chris Archer, but there's no way he's getting into that game).  And, I own the tiebreaker on David, as I lead him in six of the ten categories.  So, if David wants to win this thing, he's going to have to come and get me!  The problem is, he might be able to do that quite easily.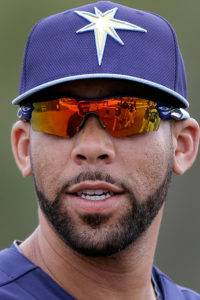 David is the proud owner of another David — Price.  And as (his) luck would have it, Price lines up perfectly to make this start.  A win for Price would net David another half-point.
Gonos also has three hitters playing in the game — A.J. Pierzynski, Leonys Martin and James Loney.  He trails Zach Steinhorn (who owns Desmond Jennings) by one homer.  If will be hard to the two Rangers to get a homer off the stingy Price, but it could happen.  I would feel a lot better is this game was being played in Tampa Bay!
David also trails Cory Schwartz (the 2012 Tout champion) by one run scored.  Schwartz can counter with Ian Kinsler and David Murphy, but this might be the easiest category for David to gain a full point.  Murphy is unlikely to play in the game, and if Kinsler doesn't score a run, Gonos would need just two runs from his troika of players to earn a full point.
In the end, I'm hoping for a 1-0 Rangers win!  But somehow, I don't think Martin Perez is capable of that kind of performance at this time of year.  In the end, a low-scoring game with no homers and the Rangers coming out on top is best for me.  David will be hoping for a slugfest, where Price escapes with a win and one of his hitters knocks a ball out of the yard.
During the past month, David and I have moved up in down in points but my lead rarely changed.  He always kept me within sight, but he has never been able to pass me.  To be best of my knowledge, David hasn't finished a day in the lead in our league all season.  It would be a crazy finish if Tuesday morning is the first time we see him atop the standings.  But, this is the time of year for crazy things to happen!