At the end of April, Mike Podhorzer was in second place, a few points behind Jason Collette. By the end of May he was solidly in first. By the end of June his lead was pretty much insurmountable. In any case, it was never surmounted.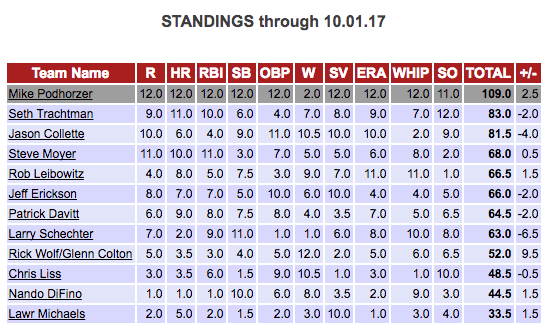 Podhorzer's team was built on two big stars, Mike Trout and Francisco Lindor, and a solid closer, Craig Kimbrel, but his season's success depended on a pair of young Yankees, Aaron Judge and Luis Severino, and the emergence of Matt Olson as a power hitter in Oakland.
Podhorzer built his pitching staff on the back of David Price, but when Price went down, he was able to sustain because of the continued excellence of Severino. The result wasn't a ton of innings, but it was top finishes in ERA, Ratio, Saves and, surprisingly, a second-place in strikeouts despite only putting up 1100 innings. That's thanks to Severino and Kimbrel.