Rudy (Still) Can't Fail
by Jeff Erickson
We'll delve into Rudy Gamble of Razzball's hegemonic-like dominance of the Tout Wars Mixed Draft League momentarily, but first, a song:
I know that the spelling is different, but any excuse to include a Clash song has to be taken.
For the second year in a row, Rudy Gamble of razzball.com has won the Tout Wars Mixed Draft League. Once again, he had to hold off Adam Ronis of Scout.com for the title. I wanted to say that Rudy and Adam are the Red Sox and Yankees of the Mixed Draft League, but that wouldn't do justice to the size of the field they are besting each year, and the comparison fails because there's no carryover from year-to-year. Moreover, Rudy made a better analogy in his write-up of his victory—they are Federer and Nadal, with a combined four firsts and three second-place finishes over the last four years.
With the win, Rudy vaulted into third place on the All-Time Tout Wars leaderboard, behind only Fred Zinkie and Larry Schechter, despite having played only four years. Thus, Rudy will get another meal named after him at our annual Tout Wars get-together at Foley's. It's a good bet that if you ever have leftover Tout Wars currency from that meet-up and it has Rudy's visage on it, you should keep it so that you can use it the following year.
It's worth noting that Ronis isn't that far behind on the list, sixth all-time and fifth among active participants, and fellow Razzballer Grey Albright has demonstrated similar strength, following up his 2017 win with another "cash" finish in 2018.
If you're looking to see where I'm on the list, don't bother. Seriously, it's embarrassing. Having me write this article is like having Anders Jarryd or Manuel Orantes compare themselves to Federer or Nadal.
So … how did Rudy do it? Let's take a quick look at the standings first: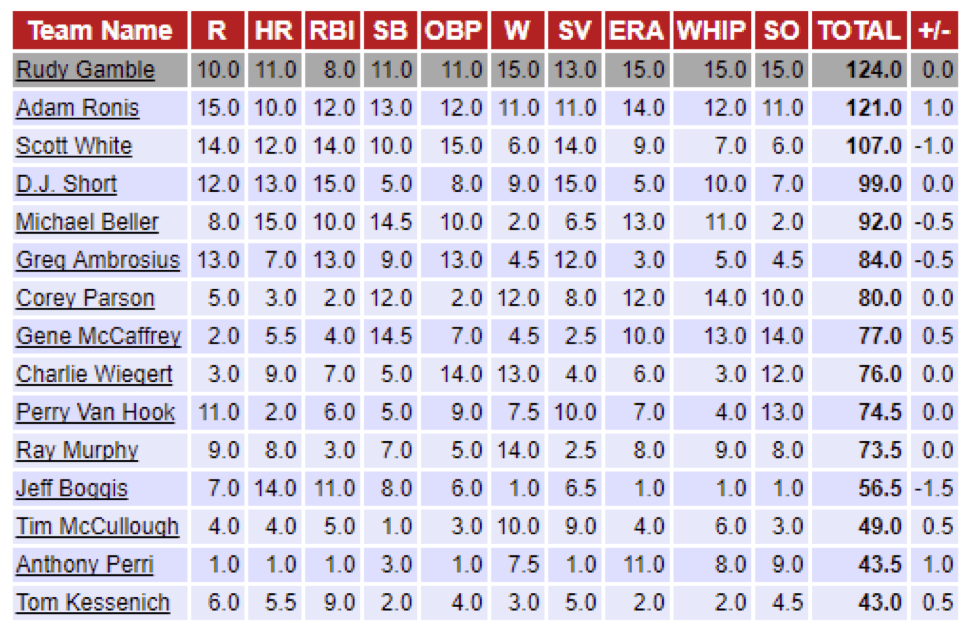 The first thing that jumps out is Rudy's utter dominance of the pitching categories. He won four of five categories outright and finished third in saves. He did this despite getting only 25 starts from his first pitcher, Noah Syndergaard, who he took at the 2-3 turn. Unlike many of his competitors, he backed up Thor with a second ace, getting Aaron Nola at the 4-5 turn. Two great starters aren't enough to dominate the starting pitching categories, however – he had to hit on the slippery mid-round starters to succeed, and he did that in spades by getting Charlier Morton in the 13th and Blake Snell in the 15th rounds.
One might be tempted to dismiss those picks as windfalls – but I think that's underselling the skill in picking in the mid-tiers. Moreover, because he had that second ace, he was less reliant upon 'hitting' with all of his mid-tier SPs. Obviously, there are so many landmines that he could have gone with (and in one case, in Round 12, did go with, in Jon Gray) instead of Morton and Snell – just looking at the draft grid, some disastrous alternative picks in that range included a lot of injuries (Danny Salazar, Garrett Richards, Taijuan Walker, Dinelson Lamet) and underachievers (first-half Cole Hamels, Chase Anderson, Aaron Sanchez, Jake Odorizzi). Rudy was able to combine all that top end starting pitching with quality contributors late in the draft, too – getting significant contributions from Eduardo Rodriguez, Hyun-Jin Ryu and Tyler Skaggs, the latter two in the reserve rounds of the draft.
Rudy might not have won saves, but he got two solid closers in Felipe Vazquez and Raisel Iglesias that weren't ever a threat to lose their jobs. 2018 was a really frustrating year to chase saves – plenty of closers lost their respective jobs, but often their replacements weren't all that stable, either. Iglesias was Rudy's first "value pick" at 9.1 – and it had the added bonus of preventing a disaster in Delino DeShields.
Turning to the hitting, once again most of Rudy's value came from the draft rather than through trades or the waiver wire. Starting out with Mike Trout is great, especially in an OBP league, and then he hit perfectly at 3.1 with Christian Yelich. After that, he had a number of solid players but few breakout hitters (at least compared to the year before, when he nailed Tommy Pham and Whit Merrifield), though he got great values with Shin-Soo Choo (16.15) and Michael Brantley (19.1).
It wasn't the proverbial "perfect draft" for Rudy – he had to overcome injuries and suspensions from Kevin Kiermaier (10.15), Steven Souza (11.1) and Jorge Polanco (14.15), for example. But he avoided the critical early-round disasters, which is so important in a format like this. He also invested very little in scarce positions. Catchers were a disaster in 2018, but with his catchers coming in Rounds 17 (Mike Zunino) and 28 (Bruce Maxwell), any shortcomings there weren't that damaging.
Can Rudy be stopped? All signs point to no, but you should tune in next spring and of course read up at Razzball to find out!