With a month left in the season we've crowned one Tout Wars Champion for 2015: Charlie Wiegert is Tout Wars Daily champion. But what about the other leagues? While you can alway check in on the standings and transactions by using the links in the right nav at toutwars.com, at this point it might be a good time to check in on the pennant races.
Chris Liss is having a classic Liss season, young pitching, lots of hitting, lots of risk, and is seven points ahead of Jeff Erickson and nine points ahead of Mike Podhorzer. The three have bubbled up and down around the top of the standings all season, but Liss has benefited from Chris Davis's spectacular season, and Carlos Correa's emergence after being called up earlier in the year. There are plenty of points in play for all three teams, up and down, for this to turn any which way at any time, but Liss is clearly the fave.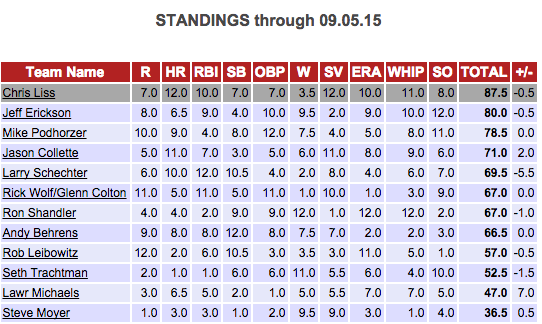 Mike Gianella is seven points ahead of standing three-time champ Tristan Cockcroft, but just two weeks ago his edge was only two points. For Cockcroft, the problem has been a freefalling pitching staff, which has won just a single game in the last 13 days, allowing Gianella to pass him. These teams have lots of points in play, too, so while you have to prefer to have the lead, there is no sitting comfortably at this point. Still, Gianella has to appreciate that he was the best team in the first half and has been the best team in the second half. Now he just has to bring it home.
At the halfway mark on the season Zach Steinhorn had a commanding lead, but that was before Fred Zinkie went to work. Zinkie was in 12th place on June 28, 39.5 points behind Steinhorn. From that point to the August 31 trading deadline he made 19 trades, and has taken a slim lead ahead of Scott Swanay and Steinhorn. Swanay was in 10th place on June 28th, and has nearly matched Zinkie in the second half. Meanwhile, Tim Heaney is just five points behind Zinkie, in fourth place. There's a lot of pennant race to come in this one.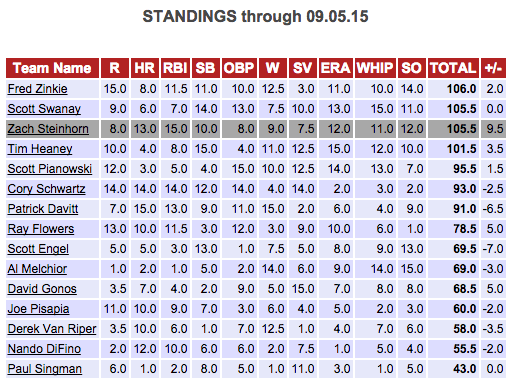 Adam Ronis and Paul Greco have been near the top of the standings all year long, but their weak second half performances have given Rudy Gamble a chance to open up some space ahead of them and Eno Sarris (whose had the best second half of them all). Gambles position is pretty strong, but he's vulnerable in Wins and the pitching qualitatives,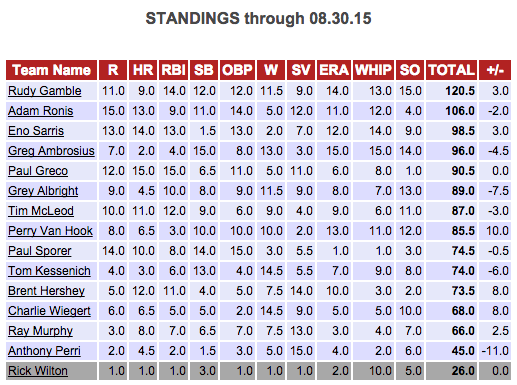 Bret Sayre entered the last four-week contest 14.5 points ahead of Patrick Mayo and 31 points ahead of Doug Anderson. As we approach the halfway point, Sayre is 15 points behind Mayo, who has moved into a tiny lead. What looked like it might be a blowout has ended up a a nail-biter, if you're Sayre and Mayo.