He was in contention all year, in fourth at the end of April, in second behind Charlie Wiegert at the end of May, and in second behind Ray Murphy at the end of June, but by the All Star break Rudy Gamble was in first place all by his lonesome. By the end of July there was only dust in his rear view mirror.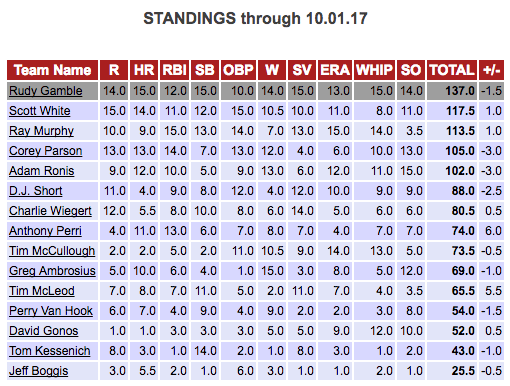 After finishing in second the preceding two years, behind Adam Ronis, Gamble finally ended a season in Tout Wars in the driver's seat.
The result was a bit of draft day magic (he finished first in the Draft Day Roster standings, slightly ahead of Corey Parson, behind a team that featured Bryce Harper, Giancarlo Stanton, Chris Sale and Craig Kimbrel. But it was some breakout years, from Mike Moustakas and Keon Broxton, plus late May trade for Dee Gordon that bumped Gambles team to slight favorite to monster.